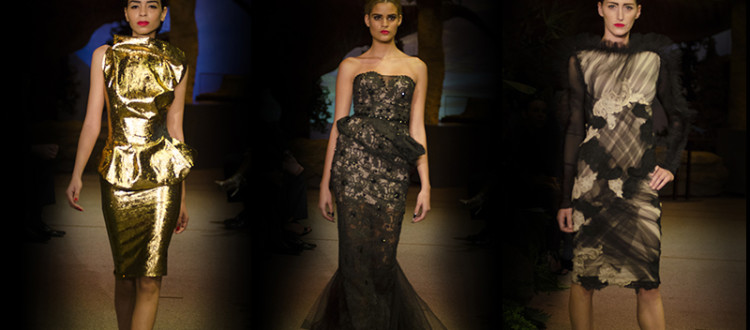 What was your overall vision for the collection?
My vision was one of sophistication; I designed these pieces to be glamorous and bold, sexy and unusual.  They are sophisticated in that their boldness is shocking in a fresh, positive way.  I am always considering how my designs will enhance and flatter their wearers' figure.
To achieve this sophistication, I use very unique embellishments. Whenever I start a line, I think of the different impressions I hope it will achieve; this time, I incorporated traditional Middle Eastern elements inspired by belly dancing costumes, woven scarves and sassy 1920s-esque embellishments.
Do you anticipate a broad range of clients?
Yes, I am definitely targeting a lot of people with this collection. My designs are most certainly wearable couture.  Some of my dresses are perfect for a sexy cocktail party, others for a glamorous red carpet event, some for beautiful weddings and New Year's Eve parties, while others carry a boldness that will make an unforgettable statement.
Could you share some key design and wearability elements for a few dresses?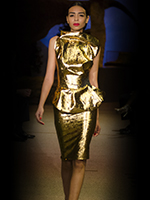 I'd love to. Let's start with the gold high neck dress — This is one of my favorites– this gold draped dress is very feminine and unique.  I didn't add any embellishments or other fabrics because the draping is so dramatic and elegant. As are all of my designs, this is all handmade—no machine was used; this dress especially required a lot of fine stitching.
I also invite you to view a video of the collection here.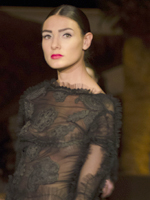 Another is the all black tulle dress — This dress shouts extravagance; this is for the person who aims to impress.  It is bold and unusual—needing a bold personality to carry its look.  Something like this takes 3-5 weeks to produce.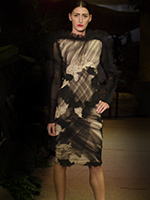 Third is the black and off-white lace/tulle criss cross dress — this dress could be worn at a broad range of events from a cocktail party to a red carpet event or even a business occasion.  The appliques on the bodice flatter the wearer's physique and the draping and collage techniques exhibit a sophisticated design aspect without using an overwhelming amount of texture or color.  This dress really embodies the Elmadawy silhouette.
Each Elmadawy New York piece is masterfully handmade and takes about 3-5 weeks to produce.
The range of cost for dresses in the collection is about $800-$2000. Cost is dependent upon time to produce, the complexity of the design, and the fabrics used.  Special orders are always accepted; please note that consultation time and originality of design will factor into the cost of the piece. [Custom Design Process]
Please contact us if you are interested in the collection as a buyer or consumer.